Canofi: convert 360 panoramas to hemispherical imagery for plant science applications
How to Canofi your imagery:
Shoot a full 360 degree panorama photo under a tree canopy & save it to your phone/desktop. Google Street View works well for this.
Wait for modules to load, then choose the panorama file and click "Reproject image". After that, click the "Estimate LAI" button below the output image to calculate the leaf area index (LAI).
Warning: Canofi eats data, so please be careful if you are on a data limited plan!

For more info scroll down or visit the Canofi project homepage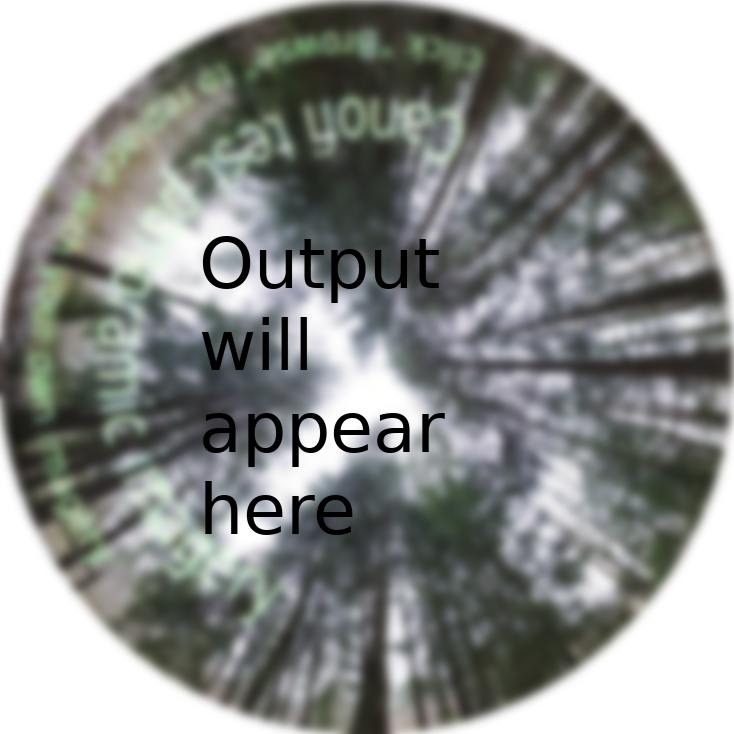 Click here to download hemispherical image
LAI output: LAI not yet estimated
A few more details
If you encounter a "Processing error:" then refresh the page and wait for the modules to load before retrying.
Canofi works best in Chrome. In FireFox desktop, if the page is refreshed 2-3 times the app might run out of memory. If this happens close the browser completely and start again.
We have had mixed success with mobile, switch to Chrome desktop if you have issues.
On mobile the image may download as a document file with no file ending. In that case, locate the file and rename it to hemi.png and your phone should show it as an image.
Canofi is an educational tool. Please do not use Canofi for critical research as image quality is degraded and accuracy cannot be guaranteed.
LAI is very sensitive to the threshold parameter! Change the value and toggle the threshold image checkbox to optimise estimated LAI.
The LAI algorithm is a port of Hemiphot.R .
[Hans ter Steege (2018). Hemiphot.R: Free R scripts to analyse hemispherical photographs for canopy openness, leaf area index and photosynthetic active radiation under forest canopies. Unpublished report. Naturalis Biodiversity Center, Leiden, The Netherlands].
Note that the LAI is also an approximate value, and should be treated with caution. The LAI shown here is uncorrected for woody area or clumping and is sometimes known as the plant area index (PAI).
Everything takes place in the browser using the magic of Pyodide.
Canofi was supported by the Scandanavian Plant Physiology Society.
Send feedback and suggestions to info@cano.fi
Click here for the source code.